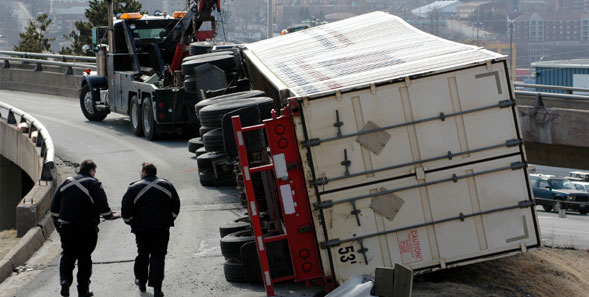 Although the cause of a truck accident may appear obvious to observers, there are typically underlying causes involved which cannot be seen. Factors such as an unbalanced load or poorly maintained truck may have played a role, and poor practices by the trucking company, such as putting drivers in trucks they are not properly trained to operate and demanding that drivers meet unrealistic schedules, are even harder to detect. Truck accidents require thorough, in-depth investigation by an experienced truck accident attorney.
Common Causes of Truck Accidents
Truck accidents are often the result of a combination of underlying factors. Some of the common causes leading to truck accidents include:
Unrealistic schedules imposed on truck drivers
Driver fatigue
Speeding
Driving too fast for weather, road or traffic conditions
Failure to perform pre-trip inspection
Inadequately secured loads
Unbalanced loads
Overloaded trucks
Truck driver distraction
Inexperienced or undertrained truck driver
Intoxication with alcohol, prescription, over the counter, and/or recreational drugs
Inadequate truck maintenance
Defective trucks and equipment
Negligence on the part of other drivers
Defective roadways including missing or inaccurate height and weight limit signs
Unrealistic Schedules Contribute in Many Ways
We live in a world where consumers and businesses expect fast, free delivery, especially right now while so many of us are trying not to go into stores and many are limited to selling online. While that's a great thing for those in need of goods, it puts a lot of pressure on trucking companies to keep up and compete, and they in turn put that pressure on their drivers as well as taking shortcuts such as keeping trucks on the road that should be down for maintenance or retired entirely.
Unrealistic schedules can create numerous hazards that lead to trucking accidents, including:
Truck driver fatigue
Speeding or driving too fast for the conditions
Intoxication with stimulants to ward off fatigue
Other types of intoxication due to be called in sooner than expected after drinking or taking medication
Improper loading
Overloaded truck
Failure to perform pre-trip inspection
Truck driver distraction
Inadequate maintenance
Mechanical failure due to truck overuse
If you or someone you love has been seriously injured in a crash involving a large commercial truck search our directory for an experienced truck accident attorney in your state.